Haiti design comp is music to the ears
|
Send to friend
May 14 2010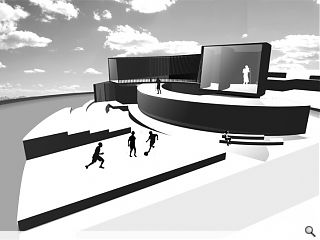 Christopher Morgan, student at Virginia Tech University in Blacksburg, Virginia, USA, has been selected as the winner of an international student competition to design a music studio in Cité Soleil (Port-au-Prince), Haiti, on behalf of Wyclef Jean and his charity Yéle Haiti.
Morgan's winning 'Broadcast Studio' design incorporates two performance spaces located between a park and the waterfront together with facilities for a local radio station. Boasting an elevated position the studios are designed to symbolise the empowering role of music.
Two runners up, Tak Kei Yip's 'tent City' and Christopher Bradley's 'Air Brick' also shared in a £1k prize donated by Allied London.
Organised by RIBA the competition, which attracted over 100 entries, was judged by John McAslan + Partners.
Back to May 2010