Queens Park bandstand designs to go on public display
May 11 2010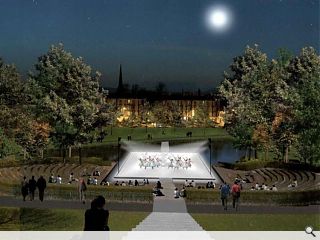 An impressive
77 entries
have been received for the Queens Park bandstand competition, whose brief was to design a sub £500k multi purpose replacement bandstand.
Amongst the submissions is a performance platform designed to appear to float above a nearby pond with lighting that reflects in the water.
Another proposal takes its inspiration from the form of Central Station to generate a linear space albeit constructed from untreated oak rather than wrought iron. This leads from the original amphitheatre and extending out into the park to a stage area.
Adding further spice to the mix is a shell like bandstand to protect the stage from the elements with a 'pocket' area at the back lie fitting rooms and storage space.
A shortlist of entries will be on display at the parks Victorian glasshouses from May 22/23 from 11-18 on Saturday and 11-16 on Sunday as part of Art in the Park.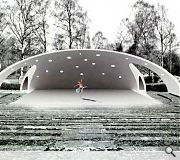 Some have elected to pursue a more organic approach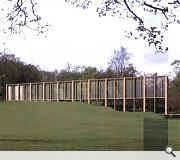 This ribbed pavilion demonstrates vaulting ambition
Back to May 2010