Wilson's Weekly Wrap
Less, in the world of Maggie's Centres, is very definitely more
May 11 2010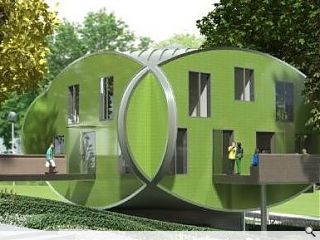 Now that our third world electoral system has bumbled its way to the widely anticipated and wholly inconclusive result, attention can once again be focused on the things that actually matter to us all and what could be more important than the designs for the latest round of Maggie's Centres?
There was a time when Charles Jencks, widower of landscape architect Maggie Keswick after whom the centres were named, was suggesting that these projects were in fact the visible evidence of a new building type that combined educational, health and spiritual functions and indeed the earliest versions by architects such as Richard Murphy and Page\Park could well be said to manifest such characteristics. At some stage though, Charles' patronage of well-known architects – all of whom are reputed to have given their time and energies gratis – transcended these values and some odd and unusual buildings by starchitects began to emerge, not least the timber teacake form at Dundee's Ninewells Hospital by Frank Gehry (a relatively successful interpretation of the type if you ignore its ignoring of context) and Zaha Hadid's rubber coated stealth bomber version (a more questionable approach to the genre) at Kirkcaldy.
Proposals for new Maggie's Centres used to come along one by one, then in pairs then whole squadrons at a time and the latest batch of seven has thrown up some real honkers in which it would be fair to say the architectural intention has far overtaken the worthy purpose. Let's not forget that the centres were launched in 1996 to provide uplifting and comforting places to care for cancer victims and their families and were typically situated close to treatment hospitals and whilst the latter may still be the case the delivery of the former must now be much more in doubt. I say this because quite what intersecting green oval walls in Nottingham has to do with the raison d'etre of the centres is anybody's guess, unless architectural determinism is now seen as a way of mitigating terminal illness.
It goes without saying that this particularly indulgent scheme is by Piers Gough, last year awarded an honorary fellowship of the RIAS at its annual convention. Fortunately a few of the proposed new centres look to be rather more compelling – Rem Koolhaas, the man with more KLM air miles than anyone else on the planet, has produced an interesting design for Gartnavel Hospital in Glasgow and local star Reiach & Hall Architects may finally get the chance to bring their sensitive healthcare approach to Lanarkshire, having seen its previous scheme for Wishaw General Hospital founder. Overall, however, a suspicion begins to emerge that creativity without restraint is not really creativity at all and that a 'less is more' approach on the architectural front might well do more for the users of the various Maggie's Centres, if not for the fundraising campaigns.
A land of milk, honey and new-school heavy industry
It's not often a staff member of one of Scotland's schools of architecture delivers a publishable opinion on anything, much less gains space in a national newspaper to propound a philosophical and political perspective on the state of our environment and to highlight possible ways of doing something about it. No, this is nothing to do with Carnyx's annual 'Plook on the Plinth' award but a manful attempt by Jonathan Charley of the University of Strathclyde to introduce the subject into what was an otherwise tedious and idea-free election campaign. For those unfamiliar with Jonathan, he's an old trooper from the Russian Front or, more accurately, of the Marxist persuasion, so any polemic from him is inevitably larded with commentary on the iniquities of capitalism. Which, I must say, I can happily cope with and indeed find areas of sympathy for such a position, but unfortunately anyone reading his recent 'Platform' piece in the Scotsman would have been hard put to understand what exactly Jonathan was proposing.
Now I know from personal experience that the editing style of this particular newspaper is idiosyncratic to say the least, so I maybe shouldn't read too much into the form of Jonathan's text, but I fear too many ideas were competing for priority in the space of the article and in the end only managed to neutralise each other. It would be unfair to separate some of these from their context, but examples are surely required to amplify statements such as "we need to think creatively about what we do with the remains of past enterprises and about new possibilities for transforming our built environment. It may not be immediately commercially viable to reopen slate mines, generate power from harbour walls or build recycling centres to manufacture green building materials but we need to look at new types of industrial and agricultural production that develop and exploit Scotland's abundant resources."
Jonathan, it should be said, has been ensconced in Glasgow for some years, so the mantra demanding heavy industrial renaissance that permeates the city's air has clearly entered his pores sufficiently for him to lambast what he describes as "civic boosterism", i.e. the idea that Scotland's economy might be reinvigorated through jobs in retail, tourism and other service sectors. There are, in Jonathan's view, "alternatives within the context of the capitalist economic development to a service-based economy. There is another approach to old-school heavy industrial production that is informed not least by the imperatives of climate change and threats to our social and environmental survival. There is no shortage of imagination in Scotland, what we need is the political will and economic investment."
So there you go, JC – you had me at "alternatives" and then left me bereft of information. One of the interesting quirks of capitalism is surely that when ideas are good enough and likely to produce significant economic return, the money can usually be found to make them happen, so can we please have more detail (I'm sure Carnyx would give you space in Urban Realm) of your ideas for new-school heavy industrial and agricultural production and of how much investment is required to deliver them in Scotland? You never know, Strathclyde's department of architecture could be the forefront for national transformational change. Just don't go holding your breath.
Plutocracy, democracy – what's the difference?
Last time round the Wrap focused on the inventive political processes that prevail in the Granite City in these post-democratic times, even to the point where the leader of the City's Council was moved to remark that the results of the public consultation on Sir Ian Wood's plans for Union Terrace Gardens need have no bearing on the deliberations he and his council colleagues will make when they meet to vote on the subject on 19 May. The table-thumping demands of the project's proponent have been well-rehearsed in the press, so this week's support for them from other members of Aberdeen's business community should come as no surreal surprise – the Wrap had, after all, called for them to stand up and be counted on the matter. Yes, 50 prominent members of this exclusive club, including Sir Moir Lockhead, boss of global transport giant First Group, Martin Gilbert, chief executive of Aberdeen Asset Management and Stewart Milne, chairman of eponymous housebuilder and timber frame manufacturer as well as chair of Aberdeen Football Club have all been moved to write to the council in stark terms:
"Aberdeen City Council should be very concerned about the very real damage that rejection of this £140m investment (sic) will cause to Aberdeen City's already tarnished international reputation. Around the world we will be known as the city which turned down a £50m private sector donation towards an ambitious and much needed public infrastructure development at a time when other councils throughout the UK would have grasped it with open arms. As businesses employing 40,000 people locally with a combined turnover of £13bn, we would like some reassurance from our city council that this opportunity will not be denied simply due to misunderstanding of the project among the public and an inability to appreciate the very real impact that high quality civic amenities and an excellent city centre can have on a regional economy. It is absolutely essential that the council supports this project to enable it to progress to the next stage – an international design competition."
Now all of this would be fine except for two or three things: first, where were these 50 good men and true and their 40,000 employees when the public consultation was going on since they didn't manage to get around to taking part in the vote? Second, why blame misunderstanding of the project on the public when the communicative quality of the consultation was the responsibility of Sir Ian and his ACSEF acolytes? Third, where, pray, are all the good examples in Aberdeen of high quality civic amenities funded by these local luminaries?
Perhaps to cover these all-too-evident omissions, the group calls the project a "once-in-a-lifetime opportunity" which "if we let this window close, the clear message will be that we do not have the ambition or the foresight to prevent a downward spiral that will see a serious decline in our economy." The telling line in the letter though is the signatories' fabulous but sadly rather less-than-empirical claim that "while public opinion has been divided, we believe a significant number of the silent majority have expressed a clear desire to pursue it."
Quite how the desire of this silent majority has been communicated to the plutocratic 50 has not been made public, but mathematical skills are not required to understand that a "significant number" of a majority is, in overall terms, invariably a minority unless said majority is of soviet proportions. Which brings us back to my point: if our plucky plutocrats want to overturn the results of the public consultation they need to do one of two things: stand for election to the council on a platform of public investment in infrastructure at a time when public funding of any sort is likely to be in extremely short supply; or make their own financial contribution to the implementation of Sir Ian's scheme.
Let's face it, a mere £1m each from our wealthy 50 would double Woody's contribution and make the case for his project that little bit more believable – and affordable, without any public contribution at all save that of the site itself. And, with the bulk of the readies in place, it is almost conceivable that yet another international competition could be held for the site (there's already been one, remember, for Peacock Visual Arts), but only then. Too many competitions have taken place in Scotland for which neither the funds nor the political legitimacy have been in place beforehand and as a consequence too much architects' time and resources have been willfully squandered by others. So, Sir Moir, Martin, Stewart and all your fellow travellers: your collective track record on improving Aberdeen's civic amenities is hardly stellar but this time you have the opportunity – simply put up or shut up.
A problem shared is a problem doubled
The white smoke has finally appeared from the chimney of S+AD's Bakehouse Close redoubt and with it the name of the man who will be the quango's leader for the foreseeable future. Step forward Jim McDonald, until now deputy chief inspector for Historic Scotland and, apparently, with a previous but unspecified track record in Glasgow, North Lanarkshire and Westminster Councils. Perhaps it was inevitable that a time-served public servant would be appointed to the post chief executive, of S+AD, especially after the non-review revue carried out some considerable time ago on the less than spectacular performance of the organisation, but it hardly suggests a new dynamic is about to infuse the organisation's operations. Still, let's give the new man time and see whether his remit is to take the organisation from obscurity to oblivion or to ensure that it substantially raises the stakes in the quality of architecture and design in Scotland. There could be a third option though – continued stasis – which, given the lack of any regulatory or legislative function for the outfit, may well be the actual outcome. But with major public funding cuts inevitable, the long-promised cull of the quangos may be glowering darkly on the horizon so, if I were you Jim, I'd move swiftly to make my mark and to help things along here's a hint: do you really need the expense of two centres and two lots of staffing? What was previously politically expedient may no longer prove to be the case.
They came, they saw, they conked out
The architectural profession in Scotland has struggled hard to identify silver linings in the ash-filled clouds of the construction and property sectors, but one recent piece of news must surely qualify for rejoicing in the streets, i.e. the closure of Broadway Malyan's Edinburgh office and the company's retreat to more familiar territory. This might seem a bit hard on a struggling outfit, but live by the sword die by the sword I say and it is worth remembering the arrival of these international carpetbaggers a few years ago and their try-before-you-buy offer to work for Edinburgh City Council's arms-length firm, City Centre Management Co Ltd., for zero fee. Naturally, said company found this largesse very much to its taste and, to the chagrin of several other practices that had expended considerable time, money and energy addressing the many issues affecting the heart of the capital, Broadway Malyan went on from this anti-competitive success to score what would appear to be a more than average share of contract 'wins' amongst projects promoted by the City of Edinburgh Council. We may never know the level of fees the company pitched to secure these jobs but what is now very obvious is that income from them didn't quite match expenditure and that having premises in hyper-expensive Multrees Walk beside Harvey Nicholls maybe wasn't such a good idea for a practice still seeking to establish its presence north of the border.
The other thing that can be stated with absolute certainty is that the contribution of this particular branch office to the architecture of Edinburgh has been forgettable rather than notable. Had the practice brought exemplary standards of design and professional probity to the table it might have been possible to elicit some sympathy over its demise, but with most of its Edinburgh staff apparently being redeployed to some of the company's other offices we don't actually need to bother. BM's own statistics sum things up: on a turnover of £44m to April 2009, its pre-tax profits were £364k (i.e., a measly 0.83%) and the company anticipates its turnover will be more definitively in the red when its accounts to April 2010 are complete. Which leaves you wondering where BM goes from here: you can't, after all, bid lower than zero percent, so will the company start paying clients to let it work for them? But then again, as it's no longer here, do I care?
The truth will out
Ah, those heady days when George Reid, the former Presiding Officer of the Scottish Parliament regaled us all with tales of the vast numbers of visitors tripping through the darkened cavern of the entrance lobby in order to delight in the building's wonders. At that stage, the figures proffered put almost every other visitor attraction in the country in the shade, despite the £3-50 being charged per skull for the experience. The Wrap commented some time ago that the charges had mysteriously disappeared and that visits were now free, a far cry from the early remonstrations of Mr Reid and others that the visitor staff and the management of the visits had a cost and that this cost had to be paid for.
Turns out these costs had increased substantially, so much so that the price asked of visitors had risen to £5-85 – a hefty sum for a relatively short tour – before the Scottish Parliament Corporate Body took the executive decision to cancel the charges altogether in September last year because revenue had fallen 35% below the budget figure. But, this being the Parliament, the latest information has to be spun and so we are no longer offered figures for the actual number of visitors, but percentages presented as facts instead, viz. "the tours have been running at an average of 80% of capacity (whatever that might be) since charges were scrapped compared with just 45% when people had to pay."
I doubt I'm alone in thinking that only politicians could present a total fall off in revenues as a spectacular success and I await full details of the cost of the visitor administration hut the powers that be propose to build outside the public entrance – the last figures I saw suggested the equivalent structure at Westminster had come in at an eye-watering £12m but on the basis of previous experience I feel sure our Parliamentarians would never think to approve such a sum.
And finally…
Regular readers may recall my mention some months ago of Tweed, the Harris Hawk employed by our political masters at Holyrood to seek out pigeons in and on the Parliament building in order to calmly and non-violently escort them off the premises. My surmise at the time was that Tweed was two-timing his employers by going off-piste to chomp on the local vermin and only ever returned to the world's largest doocot for naps. Turns out the poor demented creature was in fact so agitated by his job description that he threw himself in front of a moving train or, more accurately, flew kamikaze-like into its engine to bring an end to his obvious anguish. A Scottish Parliament spokeswoman said "we were very sorry to hear what happened to Tweed" but clearly restrained herself from commenting that had he chosen an Edinburgh tram as the moving target for his final act he might well have lived to a ripe old age.
Back to May 2010