Union Street Investments sign Egyptian Halls hotel deal
May 11 2010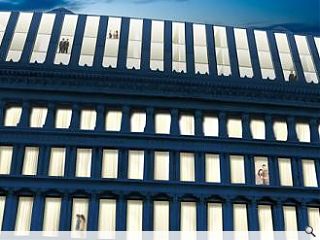 Union Street Investments Ltd has signed heads of terms with Longrose Buccleugh, a specialist hotels operator and developer, to manage a 136 bed Accor Hotel franchise at Alexander Thomson's Egyptian Halls.
The proposal, which sees £15m of private sector investment would secure the long term viability of Thomson's crumbling masterpiece but is reliant upon £5m of grant funding from Historic Scotland (£1.67m), Glasgow City Council (£1m) and the Scottish Government (£2.3m).
USI's Derek Souter said: "I've now written directly to Minister John Swinney reinforcing what we believe to be a very, very strong case as in effect this incremental funding is self- financing over 4 years due to Business Rates accruing from a building, which has lain empty for over 20 years.
"If awarded we'd very quickly lodge a "PLANNING IN PRINCIPLE" application and concurrently finalise the private sector funding required to fund the project"
Souter warns that the A listed warehouse faces eventual demolition if action isn't taken soon to stabilise the decaying structure.
Back to May 2010