Lewis and Hickey put students Inehaze
|
Send to friend
May 7 2010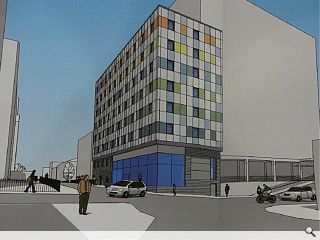 Lewis and Hickey have submitted plans to Glasgow City Council for a £3.5m block of student accommodation on behalf of the jovially monikered Inehaze Ltd.
The build occupies a tight surface car park site on Renfield Street adjacent to the 1960's Fleming House and is intended to heal the fractured streetscape by extrapolating tenement lines and introducing ground floor retail.
Employing a colourful façade of Trespa wall panels the scheme is intended to convey "youthful identity and presence."
Inehaze will be looking to bring some architectural clarity to the student residence sector which critics have lambasted for a series of dreadful designs, notably UNITE's Blackfriars and Victoria Hall developments.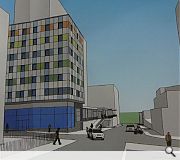 A tight footprint will leave the build bunched up against the looming 1960's presence of Fleming House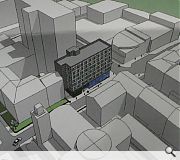 Redefining the city grid at an important junction opposite GFT is a key aim
Back to May 2010