Cooper Cromar push ahead with Bridgeton office HQ
|
Send to friend
May 7 2010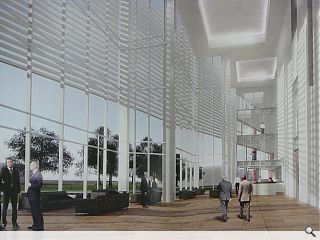 Clyde Gateway are mounting their first foray into the east end with a signature £9.7m office block designed by Cooper Cromar.
Located on the putative Bridgeton Business Park the 65,000sq/ft premises will serve as an HQ for Safer Glasgow, a 500 strong council run initiative to promote community CCTV and introduce anti-anti social behaviour measures targeting drink and drug abuse.
In architectural terms the facility is intended to recreate an urban frontage along London Rd, though with a 10m setback to avoid foundation work destabilising a disused railway tunnel beneath the street.
A feature atrium is designed to create an open aspect to the road with the form an conscious contemporary evocation of the former tenemental and industrial architecture of the area.
Scheduled to move on site in Summer 2010 the £9.7m build should complete in March 2012, part of a wider business park development on a derelict 30 acre site nearby the M74 extension.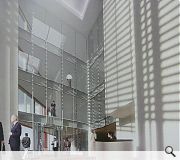 A feature atrium is intended to articulate openness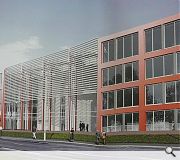 The sites prior tenemental occupant is referenced in the design
Back to May 2010