Aberdeen Council likely to scupper civic square plans
|
Send to friend
May 6 2010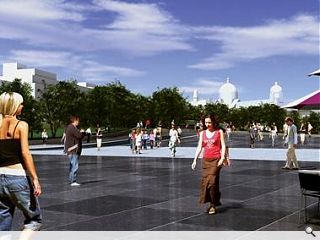 Sir Ian Wood's precarious plans for a civic square in Aberdeen look to have finally fallen through with only four out of 43 councillors thought likely to back the scheme.
Aberdeen City Council will make a decision on the £140m scheme, source of much heated debate, on May 19.
Thus far only one solitary councillor has give unequivocal backing to the civic space, with a further three stating that they are "likely" to give it the nod.
Nineteen councillors are either opposed or "unlikely" to green light the landscaped space with a majority in favour of competing plans for the Peacock Visual Arts Centre
Sir Ian Wood is championing the idea, stumping up £50m of his own cash to bring it to fruition but fifty further Aberdeen business leaders have been castigated for only offering moral support in a petition letter with one councillor remarking: "It seems that not one of them is prepared to put their money where their pen is."
Back to May 2010