Lifting the lid on Portavadie
|
Send to friend
May 5 2010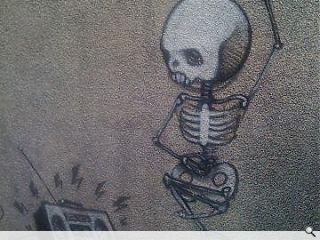 It is a scene reminiscent of the apocalypse, serried rows of functional housing marching up a bleak landscape with not a soul in sight. Product of the 1970's oil boom Portavadie was abandoned as swiftly as it appeared, built to house an anticipated influx of workers to see the construction of dozens of oil platforms the workers never came and the oil companies moved elsewhere.
Instead this ghost village has become something of an unofficial art gallery, with graffiti artists daubing the grey decaying walls with a selection of colourful extravagances that make the scenic drive up a journey well worth pursuing.
Like a land bound incarnation of the Marie Celeste the estate harbours numerous scattered artefacts abandoned with the departure of its fleeting inhabitants, chess pieces lie scattered on mouldering concrete floors, antique washing machines sit idle and demonic figures float along tiled halls and a skeleton dances a still motion jive to the silent concrete beats of a ghetto blaster.
The fate of this secret, secluded spot currently lies in limbo with numerous redevelopment plans falling by the wayside, though development of Portavadie marina may yet percolate inland.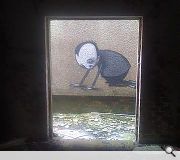 Curious 2 dimensional inhabitants have displaced humans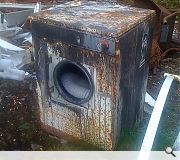 This washing machine could do with a wash
Back to May 2010