Demolition of B listed Madelvic factory wont be called in
|
Send to friend
April 28 2010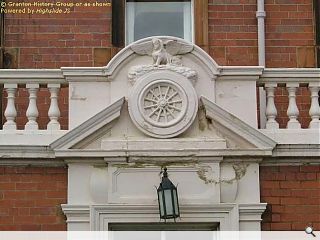 The Scottish Government have refused to call in Edinburgh City Councils decision to grant permission for demolition of the UK's oldest car factory, the B listed Madelvic at Granton.
Dating from 1899 the plant was a pioneering attempt to introduce electric cars to Britain, sadly however the concept came a century too soon and the idea failed to take off.
Despite this the buildings have lingered on but now developers the Burrell Company and Council owned EDI are looking to sweep away that history and develop housing, despite opposition from Historic Scotland and the Architectural Heritage Society of Scotland.
Planners argue that were the buildings to be retained it would be impossible to advance proposals for the wider site with local councillor Allan Jackson denigrating the architectural worth of the site in any event describing it as: "an old brick thing falling to bits."
But conservationists point out that there are pre existing plans from Malcolm Fraser Architects to retain the fabric of the site which serves as an important reminder of an increasingly distant industrial past.
This includes an ornate portico preserves the fledgling technology in stone depicting the "fifth wheel" of the Madelvic brougham cars, used to power the vehicles via a chain drive from the electric motor,
Originally it was planned to renovate the structure as headquarters for Waterfront Edinburgh back in 2002, but these plans fell through.
Later Malcolm Fraser Architects drew up plans for the buildings conversion to live/work units within a wider residential masterplan, but this too fell victim to the downturn.
Demolition permission is subject to approval of detailed redevelopment proposals for the site.
Photograph taken by
Granton History Group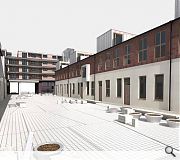 It is argued that new economic realities mean this project no longer stacks up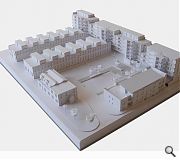 Malcolm Frasers plans incorporated the factory within a high density residential neighbourhood
Back to April 2010