Urban Realm's Spring editorial meeting hits the road
|
Send to friend
April 28 2010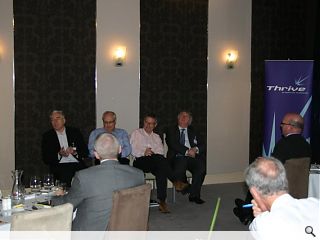 Yes, today it was time once more to coral the Urban Realm editorial team for our quarterly round up of industry happenings.
This time however instead of some every expense spared soggy sandwiches and flat fizzy juice something a little grander was arranged.
Teaming up with networking specialists Thrive the team descended upon Glasgow's Adobe Hotel for an extended luncheon and panel meeting to discuss some of the headline issues of the day.
Top of the agenda amidst ongoing electioneering was just who architects ought to be voting for? It's a decision not aided by party stonewalling on where the budgetary axe will fall leaving a room full of disillusioned voters headed by Willie Miller of WMUD: "I don't think our interests are served by any of the parties."
It was a view shared by 3DReid's Neil de Prez: "No thought is given to the longer term, everything is guided by the ballot box. Our plans shouldn't be affected by five year terms."
The Wrap's Peter Wilson added: "We've managed to emasculate most of our small towns. 40% of our population live within such areas but they've become dormitories to other places. Without any economic base their infrastructure begins to collapse. The coming financial nightmare after the election is a golden opportunity to tackle these problems.
"Much of what we've done and designed has been done at a time of economic buoyancy, not depression."
Feedback from the event will serve to inform content on Urban Realm issue two which is being readied for publication on May 28 but if you have a burning issue of your own don't keep it close to your chest, let us know here.
Back to April 2010