Arka win Falkirk apartments consent
|
Send to friend
April 27 2010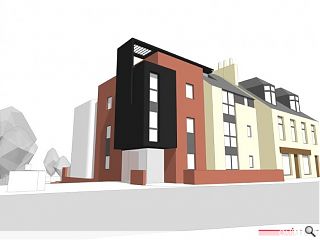 Arka have received planning permission from Falkirk Council for a development of 10 apartments in the town of Falkirk, Stirlingshire.
The scheme will see an existing stone cottage demolished to make way for the new build in a protracted process that saw local councillors go against their own planning departments recommendation to approve the scheme.
That decision was overturned on appeal to see the "unapologetically contemporary" scheme given the go ahead but Practice Director Adam Toleman remains aggrieved at the obfuscation. "Our frustration comes when fruitful dialogue with the Planning Department produces a recommendation for approval only to see this overturned by the planning committee.
"Councillors need to ensure that they fully consider all aspects of proposals before them in as much depth as the professionals who have produced them. It is not good enough to throw a list of planning policy clauses at a refusal and expect a few to stick."
Toleman went on to express surprise that the Planning Committee had commissioned a report by external surveyors to counter the views of their own planning department in fighting the appeal, "surely in these times of impending government cuts this is a waste of scare public money?"
Project architect Ryan Marshall added: "Too often key sites in the town have been developed that challenge very little in design terms. This is despite planners trying their hardest to get developers to raise design quality for a number of years."
Back to April 2010