Wilson's Weekly Wrap
Philanthropy or pomposity?
|
Send to friend
April 23 2010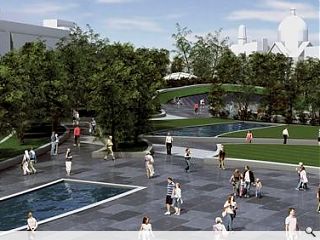 So, the voting's over and it didn't go Sir Ian's way. Almost 12000 people bothered to make formal submissions in the 'no other option allowed on the table but mine' consultation for Union Terrace Gardens in Aberdeen and 55% of them didn't seem to like what was on offer. Ordinarily, in a democratic world this would be the end of things but we now live in a post-democratic age in which the direction and obsessions of politicians and business leaders are rarely shifted by anything as disagreeable as a contrary vote. Indeed, Sir Ian has made clear that it is now up to Aberdeen City Council to agree to his plans or he'll remove his offer of £50m from the table. The crucial meeting takes place on 19 May at which time the local authority will debate Sir Ian's city square proposal as part of wider plans to regenerate the Granite City's centre, but I have to say that if opponents felt any sense of triumph at the result of the vote they need to look again at the latest machinations of Sir Ian's bag carriers in their determination to relieve the taxpayer of £100m or more.
Tom Smith, chairman of ACSEF (Aberdeen City and Shire Economic Future), the unelected organisation that in theory fronts Sir Ian's scheme, refuted suggestions that the public vote had sounded the death knell for the project with what in Aberdeen probably passes for a masterpiece of dissimulation: "it is absolutely not dead in the water. Both the people who voted 'yes' and the people who voted 'no' want change and the characteristics of that change are pretty uniform. Aberdeen City Council are now going to discuss this, but in the wider context of the city centre. If people are looking for a transformational scheme which also offers a contemporary arts centre as part of it then that is what the ACSEF scheme offers."
Except that it didn't and doesn't. Wrap readers will recall how Sir Ian and his acolytes rubbished Brisac Gonzalez Architects competition-winning design for Peacock Visual Arts and whose own proposals set out to kick the secured funding of that project - and thus the project itself - far into the long grass. Sir Ian's own reaction to the vote was unequivocal: Unless Aberdeen City Council decide that the project should proceed with their backing (sic) and that they will step in and take a key leadership role along with ACSEF, my financial offer will be withdrawn." Sir Ian, naturally, does not regard this kind of ultimatum as bullying, but has already raised the stakes by further propounding that "what is referred to as my vision is in fact the vision, aspiration and hopes of many, many Aberdonians for the future economic and civic well-being of our city and region as North Sea oil winds down." Indeed, he goes further, by warning that the reaction to last week's public rejection of his scheme by some politicians and sections of the media could jeopardise future philanthropy in the city.
Which is a bit rich, if you'll pardon the expression. Here we have a proposition that presumes £40-£50m of private sector money will leverage £100m plus of public funds when the whole emphasis of this kind of deal is normally the other way around. And we're not only talking cash here – Sir Ian and his chums don't actually own the land in question so the value of that needs to be added to the public sector contribution. In any case, the idea that a largely bankrupt council can take the lead on a project that was never part of its local government election manifesto - and at a time when public sector largesse has disappeared for the foreseeable future - is simply absurd. In any case, the Scottish Government is also being warned by its own economists to expect £35bn of budget cuts, so it's fairly certain Sir Ian's project will not be prioritised at national level, nor will it ever appear on anyone's essential items list.
So, Sir Ian, if you want to talk about philanthropy, get your rich oil industry chums together – yes, the one's who've managed to build not a single thing of consequence in Scotland's wealthiest city in the past 40 years – and get them to put up all of the money you require. Then get the political parties on your side so that the idea of the project can be put to a bona fide public vote to determine how many Aberdonians actually feel it to be essential to their future prosperity. If at that point you get an affirmative vote, sponsor an open architectural competition to find the best solution for the site. And if you're not prepared to do any of these things and are still determined to follow your 'play my game to my rules or I take my ball away' approach to things then please, please, get your scooter off the lawn of Union Terrace Gardens and go and act out your imaginings somewhere else. Philanthropy? Real philanthropy? Don't make me laugh.
Caltongate: loss or opportunity?
Of course, when it comes to post-democratic manoeuvrings, the political leaders of Scotland's capital are not about to let themselves be trumped by their provincial peers. Over the years the City of Edinburgh Council and its predecessor administrative authorities have shown themselves to be truly adept at screwing up city centre sites, and even now has managed to extend its abilities in this area to the whole conurbation with its interminable tramworks project, a ghost train ride into the world of inconceivable cost. Not that the citizens were allowed to vote on whether or not they wanted this particular fantasy played out on them – a referendum on congestion charging showed the politicians how unreliable the public was and the need to eschew such egalitarian leanings ever again. But it's not the trams – or the lack of them – that has fronted the news this week, it's the European Commission's announcement that the Council acted illegally in selling land at New Street to Mountgrange, the now defunct developers of the inglorious Caltongate project.
Mountgrange, you may recall had originally bought a former bus depot and homeless hostel and pronounced that it was to build an Allan Murray masterplanned scheme costing £300m. The Council, desperate to have neighbours for its BDP-designed headquarters, fell over itself to accommodate Mountgrange's every whim even to the extent of flogging Common Good and other land and council-owned buildings to the more-front-than-Brighton developers, all without the bothersome faff of putting said assets on the open market first. Now the European Commission, apprised of the Council's unusual dealings by the indefatigable David Black, has responded with a warning to the UK and Scottish governments that infringement proceedings are underway because the City of Edinburgh Council broke public procurement rules and flouted principles of "equal treatment, non-discrimination and transparency." A Commission spokeswoman said: "This case is currently at the stage of letter of formal notice. It represents the first stage in the pre-litigation procedure."
All of which makes it a tad difficult for Mountgrange's administrators, Deloitte, to flog on the site to another developer and for said developer to take on the planning-approved project as is and build it, the expedient option most favoured by the Council. Whether or not the differences with the European Commission can be resolved (with or without a substantial fine), it's a pretty safe bet to presume that this won't happen timeously and that the now-cleared land will remain blighted for some time to come. It's an equally safe bet to predict that as and when the problems are resolved, the financial equation for the site that stacked up to the developers advantage four years ago will no longer be the right sums for the site and another solution will be required. This will undoubtedly be a bit of a blow not only to Allan Murray Architects, but also to Malcolm Fraser Architects, Page\Park Architects, Sutherland Hussey Architects, Zone Architects and CDA, all of whom had been roped in to give the project a veneer of design respectability. But then again, there are those who would argue that their loss of fee income is more than compensated by the avoidance of lost reputation on what many consider to be a wholly ignoble project.
If ever there was a case to be made for city centre sites being put out to open competition, there could be no more compelling example than Caltongate. I would go further – in the aftermath of the Haymarket fiasco (see Wraps passim) the City of Edinburgh Council urgently needs to show it has a Plan B to address new developments in the capital. What better opportunity – and in the current absence of a national policy – to deliver the UK's first city-wide policy on architecture? In one sensible move the Council could address the criticisms of Unesco and the issues raised by the European Commission and others with a strategy designed not only to carry the public with it for once, but also to significantly raise the standard required for new architecture in the capital. Even in the most difficult of financial times there will always be developers interested in building in Edinburgh – giving them clear guidelines to work to is in everyone's interest. Will the Council, the Edinburgh Architectural Association, the Cockburn Association, the Edinburgh World Heritage Trust – and all of the other interested parties (including even S+AD) - rise to the challenge, or will the city be allowed simply to stumble from European obscurity to architectural oblivion? We still have a choice and there is no better time than now. When a capital leads, other towns and cities invariably follow.
Shock troops
Which I suppose brings as neatly to S+AD itself, which this past week has published its list of the 28 individuals selected to represent it in Scotland's design review process. It's a pretty even spread of well-kent architect names, a few landscape and urban design bods and the odd developer moonlighting in the latter category. A couple of things stand out from a quick appraisal of the list however – the sheer absence of names of anyone based outside the central belt of Scotland, unless of course you include London and Manchester. If you're Highlands or Borders-based, don't expect anything other than a metropolitan perspective to address your projects in the design review process.
Quite why there are several names representing England's most dominant northern and southern conurbations on Scotland's answer to CABE is anybody's guess – CABE after all hasn't exactly filled its extensive lists of reviewers and enablers with Scots* but no doubt in these financially troubled times it's a useful thing to have another organisation pay your expenses to and from new market opportunities. So there it is: just about the only idea that S+AD hasn't nicked from CABE is that of regional representation. But then, now that it has the expense of a Glasgow outpost it didn't actually need, it has probably more than over-extended itself so let's not get too antsy about projects in the provinces. So here's to the footsoldiers of S+AD who are still waiting for their new Alexander (sorry, chief executive) to lead them into battles afresh: let's just hope it's a General rather than a Wendy.
* a cursory survey came up with only one name among hundreds – Clare Wright of Wright and Wright Architects, a professional Glaswegian who has spent pretty much her entire working career, post-Mackintosh, south of the border.
Michelle's boob job
I have to admit I never expected to find myself writing about Ultimo bra manufacturer Michelle Mone in the Wrap. Indeed, I'd previously pinned my hopes on mouthy Michelle fulfilling the promise she made before the last Scottish parliament election to leave the country if the SNP came out ahead in the poll. Sadly, this apparently-definitive proclamation turned out to be as pumped-up as her hugely successful products - a lucky escape for the wider world perhaps, for only on that part of the moon that will always be South Lanarkshire could her decision to remain be considered a gain.
If you think that's a bit hard on moany Michelle, then take a look at the extension she's planning to her house in Thorntonhall, metropolitan East Kilbride's quartier-of-choice for footballers wives and their heavily superannuated Old Firm spouses. Mum-of-three Michelle obviously decided her existing 6-bedroom gaff in the village was a bit poky and so has bought the neighbouring house (also 6-bedroom) with a view to demolishing it and spreading the daily efforts of her cleaner thinly over an enlarged 15000 square foot property. Newspaper reports indicate Michelle's new Lanarkshire Lebensraum will boast "myriad luxury features" including a sauna, gym, swimming pool, Jacuzzi, bar, hair salon, private cinema and a recording studio - celebrity attributes so evidently dazzling to the members of the planning committee that it would appear they've granted permission to build without actually bothering to look at the drawings of the house itself. Of course, it may be that the thin-line illustrations featured in the press were actually presented to the councillors alongside trompe l'oeil renderings that from certain angles revealed a sense of scale, proportion and general architectural coherence otherwise hidden from the naked eye.
Now, I'm not one to grudge the girl the fruits of her silicone-enhanced success, but you'd think that with so much cash at her disposal she could afford a proper architect. Sadly, that's not how things are done down South Lanarkshire way. Goodness, no - in that part of the world architectural quality just isn't an issue and so it's entirely ok to draft in interior designers to do the business. In this instance its cushion plumpers Thompson MacLeod from Glasgow's Speirs Wharf that have been selected to be Michelle's mansion-design maestros. Once it's built, they'll no doubt work their magic inside with the mdf and the glitter spray and, to punt another footballing metaphor, demonstrate their undoubted skills as carpet liberos par excellence.
And finally….
To this week's volcanic eruption. No I'm not talking about that small inconvenience that began in Iceland: I'm talking about the other one that up until now has been one half of Glasgow's loudest self-publicising architectural supremos, g+mad. It seems the duo have decided to go their separate ways and discover new outlets for their undoubted talents, if not their charms. I say 'it seems' because, uncharacteristically, the details of the split itself have been a bit on the thin side, what with Alan apparently being stuck somewhere in Oregon in his relentless search for north America's most obscure teaching appointments. His now-erstwhile partner, gm, is of course Professor of Architecture at Strathclyde University but uncorroborated word has it that he's now going to be spreading himself between that post and running the rump of the existing practice (and I won't make a Gluteus Maximus remark again since it previously seemed to bring the firm's legionaries out in hives). Alan meanwhile seems to be swithering between setting up on his own, accepting a directorship at an as-yet un-named practice (Dunlop and Goodwin? p.r. bliss) or sticking at his studies in the States. How he'll find the time for any of these options alongside his all-consuming passion for writing incomprehensible comments on myriad blogs and bulletin boards is anybody's guess, but in the same spirit that the Chinese say "may you live in interesting times," I wish the dynamic duo bon chance in all their future endeavours.
Back to April 2010