Wrightstyle's blast proof glass is da bomb
|
Send to friend
April 16 2010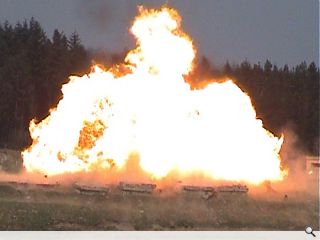 RIBA has published an anti terrorism design guide for architects amidst increasing pressure to address security in their designs, from barriers and bollards (
most recently seen at the Scottish Parliament
) to landscaping and surveillance.
It is a move which has struck a chord with glass manufacturer Wrightstyle Ltd who have developed a glass system capable of surviving fire, ballistic and explosive attack. It is even claimed that the sturdy glazing can defend against truck bombs and Wrightstyle have the video to prove it.
Packing a lorry with the equivalent of 500 kilos of TNT 75m from a test rig and a secondary car bomb of 100 kilos 20m from the rig the team proved that their technique of bonding the glass to a framing support mechanism was sufficient to withstand the blast forces unleased by detonation.
Critically this blast resistance impedes shattering, reducing flying glass which can lead to secondary injuries beyond the explosion itself.
Denis Wright, managing director of Wrightstyle Ltd claims that this system will look no different to a conventional building: "The message that we have been trying to convey to architects is that, if a system such as ours is used for the external glazing, the glazing system will look no different from conventional curtain walling."
Back to April 2010