QR codes bring Mackintosh to your mobile
Send to friend
* Required fields
|
Send to friend
April 15 2010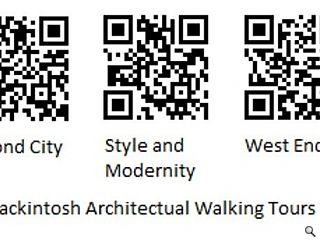 Charles Rennie Mackintosh is an architect well known for his geometric motifs, now those forms look set to convey new meaning as the Mackintosh Heritage Society adopt the QR barcode system to bring Mack into the 21st century.
From this weekend tourists and aficionados will be able to use their smart phones as a tool to unlock online background relating to Glasgow's most famous architectural son whilst on heritage tours across the city.
It is thought this is the first use of such technology in this environment which simply requires users to point their camera phone at pixellated tags. Downloadable software converts this visual key into an address which links to PDF documents containing further info.
These codes will be printed on specially created cards, posters and stickers at each of the selected venues.
Thus far three tours have been created in conjunction with historian Gavin Stamp, covering turn of the century work in the city centre, the west end and a tour highlighting the legacy of Glasgow's days as second city of the Empire.
Back to April 2010