Root unveils staple city
|
Send to friend
April 16 2010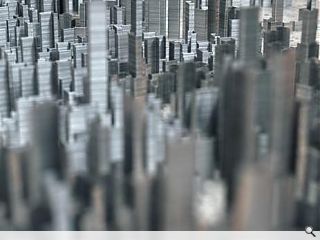 Ever spent a Friday afternoon whiling away the hours to the weekend playing around with assorted junk on your desk? What if you could make a career out of it? Urban Realm looks at how artist peter Root's latest project stacks up.
Graduating from rubber band balls and paper clip necklaces Root has taken his fidgety pastime to new heights with increasingly elaborate confections.
Staples have long been a staple of Root's career, but eschewing the passé approach of simply using the clips to attach sheets of A4 Root has instead embarked upon a series of elaborate agglomerations, fashioning the stationery accessory into a series of elaborate cityscapes.
For his latest work,
Ephemicropolis
, the artist has harnessed a mammoth 100,000 of the stacked office favourites to build a sweeping metropolis of towering staples and winding metallic canyons.
Sprawling across a backbreaking 600x300cm the stacked paper accoutrements range in scale from a lofty straight out of the pack 12cm down through varying snapped to fit scales to solitary single clips resting on an anonymous foyer floor.
A productive way to while away a few spare hours to be sure but be careful, 40hrs later you might well find it's Monday all over again.
Back to April 2010