Wood's Square no good say Aberdonians
April 15 2010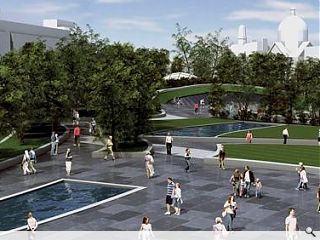 A big no has been delivered to Sir Iain Wood's plans for a civic square in Aberdeen on a raised garden after 12,000 solicited respondents delivered a majority negative opinion on the £140m scheme with 55% giving it the thumbs down.
Reacting to this unfavourable result Tom Smith of ACSEF said: "Wood respects the consultation process, its output and decision but it is finely balanced. I think on that basis, as the two camps have similar aspirations, (Sir Ian Wood) is happy to leave that £50m on the table until the council make a decision to go ahead or not."
Elly Rothnie of Peacock Visual Arts, stated: "Even the minority of people who would like to see the City Square project proceed in some form want to see green space and a contemporary arts centre which is exactly what Peacock can deliver for a fraction of the cost to the public purse and to the environment."
A final decision on the project will be made at a council meeting on May 19 but Wood already appears to have accepted defeat admitting he is "less than hopeful" that his pet project will proceed.
Back to April 2010