Tesco goes to town with Partick store
|
Send to friend
April 12 2010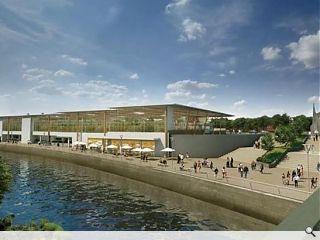 A planning application is to be submitted in the next few months for Tesco's controversial Partick superstore, after a previous application was stymied by Glasgow Harbour's refusal to sell vital land.
A series of public consultations have already been held for the scheme, which has been significantly downscaled from initial plans that would have heralded a student village on the riverfront site.
Instead the grocery giant has adopted a back to basics approach for the 65,000sq/ft "eco" store which has now been shorn of all residential add on's but will retain a landscaped walkway along the Kelvin.
Controversy still surrounds the proposal however with campaigners fearful of the likely impact on traffic.
Some locals are also concerned about a saturation of supermarkets in the area spelling trouble for small and independent retailers.
Back to April 2010