UK's largest demolition machine enlisted for Ibrox multis
April 12 2010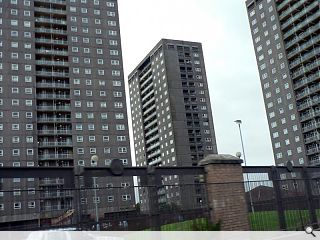 An ultra high reach demolition machine, the UK's largest, is being brought to Glasgow to help bring down three blocks of high rise flats at Broomloan Court, Ibrox.
The arm of the machine stretches to 65m in length and at a whopping 200 tonnes requires three low loaders for transportation.
It is expected that it will take the long reach hydraulic claw around nine weeks to demolish the 21 storey towers, which will avoid the explosive fate of some of their compatriots.
A decision to demolish was taken amidst falling demand and high running costs in an area which has already witnessed demolition of 400 tenement properties.
No decision has been made on future uses for the site which borders Rangers mooted Ibrox masterplan.
Coleman & Co have been tasked with conducting the demolition following the successful demolition of high flats at Shawbridge.
Back to April 2010