Denny in detail
|
Send to friend
April 12 2010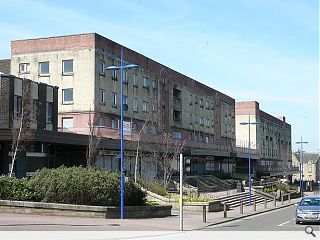 Denny has found itself garnering unwanted headlines of late for an eyesore town centre, so with the sun out and spring in the air Urban Realm took time out to pay a visit to the Stirlingshire town to see if things really are all that bad.
Andres Duany's recent claims that
no new housing to be proud of had been built in Scotland since 1945
perhaps gains some credence after a short stroll along the town's High Street. It is an oddly lop sided affair.
Turn to one side and handsome Victorian Denny hoves into view, a row of modest but well built two storey terraces converted to satiate the demands of 21st century retail.
Swivel 180 degrees however and a very different Denny emerges. Three five storey pink and yellow blocks, a sort of fruit salad gone off, stand on top of a landscaped podium.
The majority of these units are empty save for a few awaiting relocation but the scene perhaps jars as much for its unexpectedness as for its decay. This is a sight more redolent of the suburbs of Glasgow than Stirlingshire.
Plans for the sites transformation remain stalled as the
financial strain hits both Council and developers coffers
but perhaps the financial toll of delay on local business, tourism and residents will prove higher in the final reckoning.
Denny is a nominee in
The Carbuncles
awards 2010, a full shortlist will be published on May 28.
Back to April 2010