Macclesfield Civic Society stage "alternative" awards bash
|
Send to friend
April 9 2010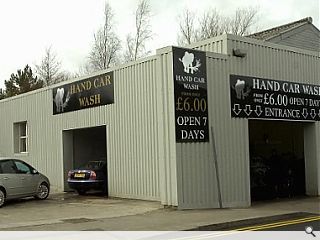 Civic leaders in Macclesfield have been left confounded after residents of the Cheshire town came up with some rather unusual suggestions for a "best building" awards scheme.
Throwing accepted norms of beauty out the window sartorial residents have plumped for an eclectic range of architectural accomplishments to represent the town, including a fried chicken joint, car wash and boundary wall.
Macclesfield Civic Society stage the annual bash and are not it must be said unused to eyebrow raising submissions; past holders of the prestigious title include chewing gum receptacles and a street sign.
Civic Society secretary Gordon Sidery explained: "We are not a stuffy old society which is looking for a pretty building. It is not the appearance, it is the substance that counts. A building has to add to or improve the area.
'Where the car wash is was a real dump. It was a tumbledown shed, but the owner of the car wash has done a really good job of smartening it up."
This baffling contender faces stiff competition from a refurbished bungalow, a budget hotel and a shop selling false teeth however.
The winning schemes will receive a plaque immortalising the scheme in perpetuity, presented by the town's mayor.
Back to April 2010