Edinburgh capitalises on New Town ideals
|
Send to friend
April 7 2010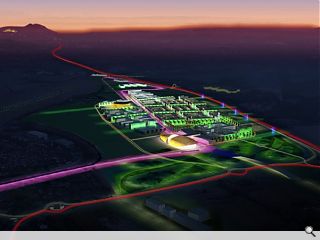 Edinburgh is a city which trades on its past to great effect as an historic centre of world renown. But now that past is set to inform the present as Dave Anderson, director of city development at Edinburgh City council seeks to "capture the thinking that went into the New Town," for a new build urban expansion on the western fringe of the city.
Anderson explained: "We're asking ourselves, how do you take Edinburgh's DNA, the walkability, the liveability and elegant design and transplant it so that when people arrive they see something that feels like it's part of the city."
This train of thought (spurred along by prohibitive remedial costs on brownfield land) has led the council to propose a mixed use district on greenfield land at Gogar, land once set aside for airport expansion.
City planners are rumoured to have hired 7N Architects to draw up designs for the 200 acre site, which would accommodate an arena, hotels, office blocks, housing and a public square in a bid to attract business to the area.
A financing deal has yet to be struck but Edinburgh City Council are in discussion with landowner and developer New Ingliston with regard to pump priming the site with £30-40m of infrastructure investment, luring potential developers to the site with improved roads, landscaping and utilities in addition to tram access.
Though at an early stage it is thought the plans could progress as early as 2013.
Back to April 2010