Scottish Design Awards 2010 nominees revealed
|
Send to friend
April 7 2010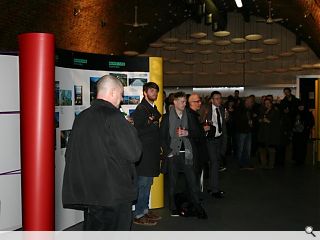 Architects, developers, engineers and industry professionals descended upon Glasgow's Arches on Tuesday night for an evening filled with architecture, high passion and general merriment as guests piled in to be amongst the first to discover if they'd made
the shortlist for 2010's Scottish Design Awards
.
As ever none of those in attendance were aware of their success (or otherwise) in advance of passing through our doors, making for an always interesting spectacle as some bravely hid their disappointment whilst others slipped away early and still others toasted their success.
These are the first SDA's to be held since Prospect Magazines historic re-branding to Urban Realm adding an extra patina of luster to those in the latter category. A further fillip to entry is that all short listed schemes will be included in the Architecture Scotland Annual 2010, ensuring that in the Scottish Design Awards at least that everyone is a winner!
Amongst the evenings highlights were NORD Architecture who garnered no less than three nominations on the night, evidence of that practices stellar work in the regeneration field where the practices Olympic Park substation and Renew North Staffordshire residential scheme went head to head.
Event organiser Gordon Young said: "The Scottish Design Awards nominations party is a highlight of the industries event calendar. The incendiary mix of copious alcohol and a captive audience of architects in an evening of professional rivalry were always guaranteed to get the juices flowing and last night certainly didn't disappoint!
"But more importantly this was an opportunity to take stock of an architecturally fruitful, if economically troubled, year and look to a new decade in confidence armed with the knowledge that we in Scotland possess some of the finest, most resilient architectural talent in the world."
A panel of judges chaired by Roger Zogolovitch of Solid Space Development Ltd included: Simon Allford, Allford Hall Monaghan Morris; Renato Benedetti McDowell+Benedetti; David Dunster, University of Liverpool; Robert Kennett, Eric Parry Architects; Jim McKinney, Tony Fretton Architects; Gerry O'Brien, Adams Kara Taylor & Michael Haste of Pascall & Watson Ltd.
Each deliberated long and hard to decide this years nominees who must now wait with baited breath to a gal evening on May 28 to discover who has triumphed over all others
The Scottish Design Awards 2010 are sponsored by
Stirling Scotland's Heart
,
BRE Scotland
,
Elmwood
,
Glasgow City Council
,
Kingspan Ltd
,
Professional Lighting Designers Association
,
Buro Happold
,
Historic Scotland
,
Service Graphics
and
Family
.
Back to April 2010