Falkirk Council rounds on Denny "scare stories"
|
Send to friend
April 1 2010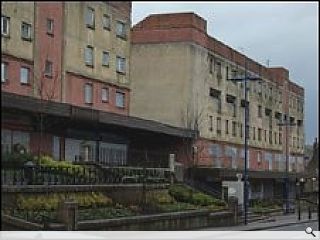 Falkirk Council's leader, Labour Councillor Craig Martin, has criticised rumours of a potential 15 year delay in realising important regeneration plans for the Stirlingshire town as "scare stories", adding that: "they may be politically motivated".
The comments came after SNP councillor John McNally waded into the
fracas surrounding the fate of three semi derelict blocks
in the town centre by stating that: "The present administrations inertia on this carbuncle is stultifying".
McNally likened progress on the delayed scheme to "banging my head against a brick wall" and expressed incredulity that the current council have no live "Plan B" to tackle the "sixties monstrosity."
Martin countered however that immediate action is "not possible" due to a legal agreement signed with developer Henry Boot, which would see the authority incur substantial costs if an early withdrawal were forced.
In addition £2m needs to be found to relocate existing premises and a "severely stretched" Capital programme would struggle to meet these costs without a partner.
Dismissing suggestion that a hypothetical "Plan B" would provide means to break the impasse Martin stated that this would merely further extend timescales as proper procurement and planning legislation must be followed, with no guarantee of success.
Outline planning permission has been submitted and Falkirk Council, with funding from the Town Centre Regeneration Fund, are in process of acquiring properties in the largely vacant blocks whilst necessary traffic light improvement works are set to take place in May.
Admitting that this: "does not meet the immediate and pressing demands of the Denny community" Martin promised the council would "do all in our power" to move the proposals forward.
Back to April 2010