Maldives float briny beating golf plan
|
Send to friend
April 2 2010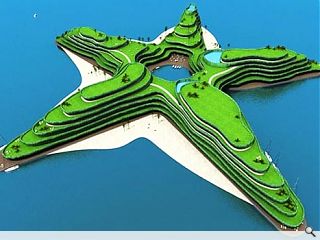 Faced with a rising tide of bad climate news the Maldives are making waves with plans for the world's first floating entertainment district.
The island state has signed a deal with Dutch Docklands International to investigate building a golf course, convention centre and homes on a platform bobbing above the Indian Ocean.
Far from crazy golf the policy is actually eminently sensible as the low slung islands, its tallest mountain reaches a dizzying two metres, face up to a watery future.
If successful the scheme could be rolled out to provide floating villages and towns for islanders displaced by erosion and sea level rises.
The Maldives are on the front line of climate change, enacting policy to become the first carbon neutral country by 2020 and even staging a below the waterline cabinet meeting in scuba gear.
Back to April 2010