The earth moves for Jencks in Fife
March 26 2010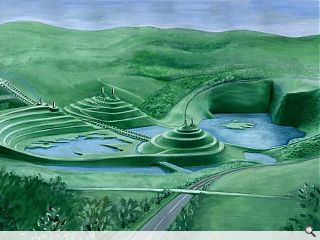 Work has begun on architectural theorist and landscape artist Charles Jencks ambitious plans to transform a former hive of industry into a giant pleasure park.
Financed by the Scottish Resources Group the Fife Earth Project is a bid to transform a former open cast mine in Kelty into a surreal landscape of artificial hills, lakes and terraces.
Tonnes of left over spoil are to be sorted into four stepped mounds up to 30m tall in reference to the four continents to which Scottish emigrants dispersed.
These take the form of an oval hillock for North America, a circular mound for Europe, a horn shaped hump for Asia and a triangular shaped hill for Australasia.
Occupying a bowl shaped depression this artificial landscape will rise above a man made loch in the shape of Scotland itself.
Boulders, scrap metal and tyres will be reconditioned as maze like monuments to crown the unlikely tourist attraction in time for completion in 2012.
Jencks signature brand of earthworks is proving popular at the moment with a
separate foray
into the realm of landscape art underway for the Duke of Buccleugh in Dumfries.
Back to March 2010