Wilson's Weekly Wrap
Duany Edge
March 26 2010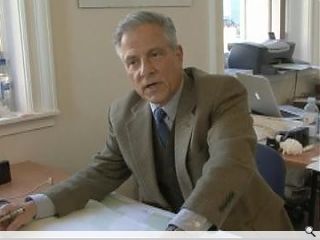 It's been a funny old couple of weeks and I apologise to regular readers for the delay in updating you since the last Wrap. To be honest I've been travelling around but, keen to avoid doing a Will Alsop and telling you the latest exotic airport I'm penning my thoughts from, I elected to hold off until I could sit down and put something more considered together.
That said, I was intrigued to see that after highlighting Forth Ports plc latest fast buck idea at the Waterfront, the company found itself under takeover attack. For long time observers of the port operator, this came as little surprise since its small and very exclusive management group has for a long time held Stock Market predators at bay with inflated assessments of the company's property worth – valuations now trashed by the catastrophic downturn in this particular sector. As ever, Forth Port bosses simply cannot understand why there might be opposition to their plans (and here I'm thinking back to the early 1990s when they wanted to completely infill Wardie Bay with material drawn from the de-silting boats they used to operate on the Forth in order to gain themselves yet more waterfront land) for a giant biomass plant and continue to extol the virtues of this moneymaking wheeze.
Time will tell whether or not the company is bought over, but given the terrifyingly poor developments they have constructed so far and the ones they had in the pipeline before things went pear-shaped, you have to feel that the Forth Ports bosses have had their chance and a new broom would be no bad thing. Certainly, it would allow a very necessary fresh look at what the Waterfront needs to be: just so long as they don't bring in Andres Duany, the Scottish government planners' current best friend and new town builder, to re-arrange the deckchairs around their Victoria Quay bunker. Given the tales that are beginning to emerge about the Duany Tornado that recently hit Scotland (and funded to eye-watering levels by you and me) I'd be delighted to see the twister's energy finally peter out in Leith.
Missing the G-Spot
Moving swiftly across country, has there ever been a games' logo launch that didn't produce controversy? I only ask because we've had a wheen of them since Michael Kelly, the then Lord Provost of Glasgow, dragooned Roger Hargreaves' Mr Happy to deliver the city's cutesy – and it has to be said pretty successful - 'Glasgow's Miles Better' campaign way, way back somewhere in the mists of the last century. Michael has been happy to take personal credit for this ever since, despite Mr Happy having a lineage entirely unconnected with Scotland's second city, but from that graphic design high point Glasgow has continued to search for a new image and has tried more than a few over the past 20 years. We've had the Mackintoshy "Glasgow's Got Style', itself an unconvincing declaration of faith in the city's contemporary talent pool, but who now remembers much about the graphic profiles produced for the 1988 Garden Festival, the 1990 City of Culture or the Year of Architecture 1999?
I appreciate that there's a whole other discussion to be had about Glasgow's obsession with one-off events as notional vehicles for regeneration and the failings thereof – the current manifestation of which is the Commonwealth Games 2014 – but it's the graphic design element of the latter that caught my attention over the past week or so. Not because it was great – no, the latest logo looks all-too-familiar and more than a touch municipal – but because it has squat-all to do with Glasgow. Did the city's sizeable cohort of designers really compete only to come up with a capital 'G' and do they honestly feel this is the visual image Glasgow needs? If so, we'll have to stop pretending there's a world-class community of creatives lurking around the Merchant City.
The controversy over this particular logo has all been about its originality or otherwise, but the bod heading up the Commonwealth games organisation in Glasgow feels it's £95k well spent since the coloured circles that make up the new badge are able wheel and spin on computer, a statement that only indicates he still has some way to go in his computer graphics class before his teacher lets him sit all the way through Avatar.
More importantly though, for a city – and arguably a nation – still searching for an identity suited to the 21st century, the whole exercise seems to be a seriously wasted opportunity. The parallel with Lillehammer in Norway when it hosted the 1994 Winter Olympics is telling: not only was a whole graphic package ranging from letterheads to on-site signposting put together with the specific intention of registering Norway as a modern nation in people's minds, but the design programme then conceived went on to form the foundation of that country's architecture policy, the latest version of which was published recently. Being bright bunnies, the Norwegians have yet again hung the development of their policy around a major project, this time one that has been developing successfully for some years and is umbilically linked to the country's tourism strategy.
We of course no longer have an architecture policy – the energies of our civil servants were so consumed by the Lighthouse's self-inflicted problems that they neglected to notice that the second term of our policy had entirely run its course and needed urgent resuscitation. The Lighthouse's difficulties – and civil servant's' attention - have since been overtaken by the shuffling of the chairs at S+AD plus the looming disappointment of Scotland's Housing Expo (of which more shortly) and consequently the very idea of a coherent policy – never mind one built around a seminal project - has manifestly failed to twirl its way through Victoria Quay's revolving doors.
And so back to that logo. Does it convey anything about sport to you, or about the Commonwealth Games, or even some idea of what that last gasp of Empire is all about today? No, I thought not, which makes you wonder what the design brief was. Of itself, the new badge doesn't seem to be hitting the nation's G-spot but, as yet another major opportunity lost to profile to Scotland's architecture and design communities to the world, it stands as tragic representation of the myopic parochialism of the event's organisers and backers. To misuse a sporting aphorism, it seems Glasgow - frustratingly for the umpteenth time - is happy to shoot and hit the wall. 'G' for Glasgow? 'G' for Groundhog Day more like.
Architecture, but not as we know it, Jimmy
Edinburgh's Caltongate seems to be a bit like the proverbial buses, i.e. sod all happens for a while then two things turn up at once. Regular Wrap readers will recall that the previous developer on the site went bust and although the characters involved in that particular drama tried to repurchase the site under another company name from the administrators, the latter seemed to have opted for some pick-up in the property market before deciding on who best to sell the land on to.
So far so good. The City of Edinburgh Council, for its part, was beside itself at the loss of Mountgrange since it had thoroughly enjoyed having its municipal tummy tickled by the company, as indeed had the capital's Chamber of Commerce, an organisation not noted for its interest in - or knowledge of – urban design but which is always happy to pontificate on the need to allow developers to do what they do in order that the city's will benefit from their aesthetic sensibilities and economic perspicacity.
But I digress. News emanating from the City Chambers indicated the Council was about to announce its preferred (new) developer for the New Street site, but as yet the smoke drifting from the chimneys has failed to turn white. The hot money is currently on Allied London, the developer of the Spinningfields commercial district in Manchester but a new player has leapt onto the architectural stage with a scheme for the site that Ian Begg, architect of the Mary McPoppins SAS Radisson on the High Street – an early precursor of the recently built McSoni Hotel on the Lawnmarket* - could only dream of. In a bold move unlikely to do it any p.r. harm, Anta Architects has published its own masterplan and architectural imagery for this part of Edinburgh's Old Town – a project the city's redoubtable Evening News describes as 'radical'.
Actually, its headline was 'Caltongate back to the future with Scottish identity built in', which in its vaguely tautological way kind of tells you everything you need to know about the project without any requirement for further illustration. You do really need to see the pics, though, to fully understand the vacuum that currently exists in architectural debate within this small nation because, unlike in most other European countries, the profession here doesn't find itself especially comfortable in discussions that involve issues of culture, intellect or politics. As a consequence, public opinion rarely feels compelled to align itself with any notion of architectural progress, and if you think I'm wrong on this I can only refer you to the aforementioned Evening News and its poll of 22 March that asked, "should the Caltongate design be similar to Old Town style rather than being modern?" I suspect you'll have guessed already which side of the question 61% of respondents elected to take.
Now, over in Europe at the end of the Second World War, exhausted citizens in many bombed out towns and cities made the brave decision to rebuild their urban environments exactly as was before the carnage. Huge amounts of research went into replicating every little detail and, over time, these towns and cities have restored the memory of the place, even if the patina of history is not really there. Anta's scheme doesn't do this – New Street bus garage wasn't removed by bombers, and any remnants of medieval Edinburgh that have been on the site have long since been removed by the demolition companies. Moreover, the masterplan and seductively drawn 3d images offer a series of speculative blocks and squares dressed in a sort of Scottic-ised architectural wallpaper that one would be hard put to justify as a recreation of the Old Town fishbone street pattern.
To be fair to Anta, they don't suggest that their proposal is anything other than a "traditional architectural treatment" with the building forms "informed by the local vernacular architecture." Which I have to point out is actually medieval form as interpreted by the likes of Robert Hurd, Basil Spence and Richard Murphy. The thing is, the south side of the Canongate shows what a masterplan based on the traditional urban form can do, and John Hope's carefully considered plan has allowed a rich variety of to emerge there, projects like Allan Murray's Tun Building, Richard Murphy's Canongate housing and Malcolm Fraser's Scottish Poetry Library being notable examples. Now many people may not like Allan Murray's plan for the Caltongate site – and indeed Anta has characterised it as "monolithic" and that its architecture looked too similar to many modern schemes, but hey, that's what you get when you're developer-driven.
And that's the problem with Anta's scheme too – aside from the fact that it presumes we'll all be happier in a pseudo-Scottish technicolor world, it stands or falls by its ability to convince the successful bidder for the Caltongate site to go down this path. This is old-style, top-down development - a landscape within which the developer sets the agenda based on his assessment of what will make most money out of the site. The downturn in the property sector offers a real opportunity however for the city and, more importantly, its citizens and their representatives to set the agenda about what the city actually needs.
For too long Edinburgh has behaved like the poor neighbour, desperate for investment and happy to accept whatever comes along. In reality it is a vibrant capital city, which – even with the collapse of the two major banks that were headquartered within its boudaries – still has a strong economic base and a tourist industry to die for. Given the current absence of a national architecture policy, it is surely time the nettle was grasped to create a city-wide policy on architecture that raises the bar for any developer wishing to build within the capital. Then, at last, we might have a real framework within which to debate the relative merits of any proposed project. Developers in vibrant cities are, after all, like buses – there will be another one along in a minute so you don't actually need to take the first one.
*('the best new place in Scotland', according to the Civic Trust who gave it one of only two awards north of the Border, the other being Bennetts Associates' Informatics building for Edinburgh University. Once again, vindication of the Wrap's view that, when it comes to awards, you get what you apply for)
Trams 1 - right hand, left hand? Who knows?
It's been a fair old week or so for Edinburgh's trams. Not content with being found to be blatantly lying over the extent of completion of the maintenance sheds at Gogar on the western edge of the capital, TIE, the Council's wholly owned mismanagement company for the project, seems determined to keep playing double or quits with public money through the ongoing dispute resolution process. So far it's lost four out of five arbitrations at an unconfirmed additional cost to the project of £100m but it clearly feels that if we just continue to keep bankrolling its arguments it might yet have the beating of Bilfinger, the German contractor. The reason it has managed to get this far in this farcical dispute is down to the fact that Bilfinger and its partner, Siemens, are contractually obliged not to make any public statements on the matter whilst TIE and its Council masters lambast them for supposed teutonic intransigence. TIE even attempted a bit of divide and rule on the duo but the Rhineland Tramboys sensibly elected to stick together since there are a lot more such projects around the world to work on when this one finally and inevitably goes belly-up.
The extent to which the project has gone wildly awry is perhaps best exemplified by the fact that both sides are seeking to take credit for the idea of completing the route from Haymarket to the airport ahead of the city centre sections, work upon which - to all intents and purposes – is at a complete and expensive standstill. Trouble is, it appears that some people very close to the project don't seem to have any real confidence in TIE's abilities to do even this because – in the same week as this latest wheeze emerged – Lothian Buses, the profitable Council-owned company that the bright bunnies in the City Chambers have decided to merge with TIE in order to hide some of the still-far-from-nascent tram system's losses - announced a £3m investment in a new fleet of ultra high-spec double deckers to take passengers direct from the city centre to – yes – the airport. With free wi-fi, electric sockets for re-charging phones and laptops, 'mood-enhancing' lights and screens displaying real-time information on hotels and tourist attractions, who, pray, would willingly prefer to take a circuitous tram journey through the city's western housing estates before they get to their journey's end?
Trams II
It's rare for a member of staff at one of Scotland's schools of architecture to put pen to paper and actually have the resulting missive published in one of our national newspapers, so well done Ian Campbell, Professor of Architectural History and Theory at Edinburgh College of Art who has railed (sorry, couldn't resist it) against the installation of high-level tram cables along the length of Princes St. As he sees it, "the view of Edinburgh Castle and the Old Town from Princes Street is one of the great cityscapes in the world. In any other self-respecting city, tourists and residents would be able to enjoy such a south-facing view by sitting in pavement cafes." More wryly, he goes on to say "the Council must be delighted at achieving its goal of deterring pedestrians on the north side of the street from dawdling or stopping to admire the view." I'm not sure though that I entirely agree with his final point, "at least we are world-class in something – lack of vision", since any council prepared to speculate its city's entire financial future on one unproven project surely has some kind of vision, even if it is apocalyptic.
Trams III
And you know things have gone completely pear-shaped when William Hill opens a book on your best endeavours. Of course we're still talking about Edinburgh's trams here – what else? Like most Edinburgh citizens, the bookie seems to have a more realistic view on proceedings than the project's managers, and some of the odds on offer certainly seem worth a small wager – it's 3/1 that the project will be scrapped; 2/1 that costs will total more than £1bn; and an unsurprising 1/5 that the full line will never be built. The odds that tickle me most though are the 20/1 offered against the project being completed before the Sagrada Familia is. Yes, that's the same Sagrada Familia in Barcelona whose architect, Antonio Gaudi, was knocked over and killed by – a tram. There's no chance of a similar accident here of course unless one drops from the sky with Elvis at the wheel, so if you can hang on until 2026 you should get a fair return on your fiver.
And finally…
Up at Loch Ness, architects Cameron Webster recently beat off Gareth Hoskins, Anta Architecture and McKenzie Strickland Associates in a competition to design a new harbour and visitor centre. It did seem congratulations were in order to this energetic young(-ish) practice until a little bird informed me that the people running the competition don't actually own the site. Any access to where the harbour will be is via land that the actual owners the competition promoters lease their bit from has and upon which they have their own project for a visitor centre and harbour already in the planning process. I know I go on about unregulated competitions, but inviting four firms of architects to put a lot of their professional time into a project for which the ground rules are – shall we say – not exactly firmly established or indeed made clear to the participants is simply shameful. Hard-hearted souls may say the practices should have checked things out a bit more forensically, but in a difficult marketplace, people understandably make compromises in the chase for work. Of course all this may be just gossip, but that's what one of the things the Wrap's here for and so you heard it here first. Monster-ous.
Back to March 2010