3DReid respond to "mischief making" Velodrome reports
March 24 2010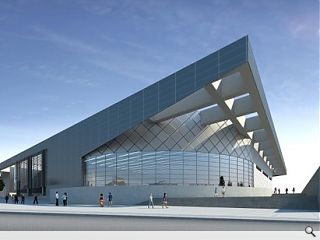 3DReid have described as "mischief making" reports in yesterday's Evening Times of alleged mistakes in technical drawings and possible job losses relating Glasgow's National Indoor Sports Arena and Velodrome
Restructuring work at architects 3DReid was said to involve a project leader and two technical staff are being made redundant but 3DReid state, "Noone on the Arena team has been made redundant. With regret, some people are on a consultation process with the possibility of being made redundant but this may never happen. It certainly won't effect delivery of the project."
It was also stated that the size of the design team will inevitably fluctuate with the demands of the job.
Claims that contractor Sir Robert McAlpine had returned technical drawings owing to "mistakes" were also clarified by the practice who affirmed there was nothing unusual in such in evolving work. "You're always improving drawings and people might have queries about the drawings"
Allegations of delays of up to "four months" in the design process were categorically denied in a statement with a spokesperson for McAlpine confirming the project was "on programme".
Back to March 2010