Councillor makes an open and shut case for Leith Walk
March 24 2010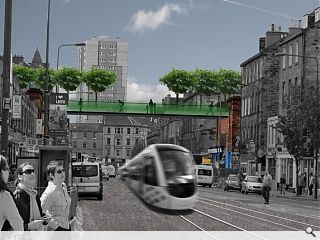 Leith walk councillor Angela Blacklock has helped persuade Edinburgh Council's planning committee to refuse a retrospective planning application for roller shutters by Aslam Jewellers on the city's Leith Walk.
The shop will now have to remove the shop or face enforcement action.
Blacklock successfully argued that the council's economic development department were seeking funding for shopfront improvements in the area which could see even pre-existing shutters removed in a streetscape improvement programme saying: "With the investment going into the Waterfront, Leith Walk becomes more important as a thoroughfare to the city centre and there is massive potential coming with the tram line and new hotels which are planned.
Leith Walk should become the type of boulevard where shops are open later and much more is happening at all times of the day, I hope that Aslam Jewellers will be part of this".
The move follows long standing efforts from Smith Scott Mullan Architects to revitalise a route once described by Sir Terry Farrell, Edinburgh's former design champion, as having the potential to become Edinburgh's equivalent of Barcelona's Ramblas.
Back to March 2010