Supermarket sweeps into Glasgow's south side
March 23 2010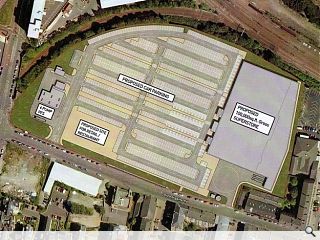 A south side bus depot is set to be transformed into a giant 100,000sq/ft superstore, retail unit, petrol station and surface parking lots.
Occupying a desolate tract of wasteland lying between the city's south side and city centre and bisected by the M74 motorway the scheme elicited strong emotions from local residents attending a pre-application presentation.
Posting on the
South Side Happenings blog
Vicky Calder said: "I think the employment issue is one that is always used to force areas to accept these large Superstores - yes there would be some jobs created and in the current economy this is greatly needed. However in the larger context if the fruit and veg shop closes, and the butchers, and the hardware store, and the dry cleaners, and the chemist, then will the other shops and restaurants survive - how nice will it be to walk down Victoria Road, when every second shop is empty?"
Mr T agreed: "The scheme at present doesn't address the urban planning problems that blight that part of the city, or actually deal with Glasgow's continuing dependance on car travel. When I chatted to the developers this afternoon, they gave conflicting arguments regarding car use. Playing up the benefits to "local" residents being able to walk to the store, while on the other hand advising that the real aimed catchment of the store was to try and compete with the two large Asda's at Toryglen and Govan."
The scheme supercedes a
previous plan
by Park Lane for housing on the former depot site, shelved amidst the property downturn. A formal planning application is expected to be submitted in May.
Back to March 2010