Salmond promises rapid Fastlink support
March 19 2010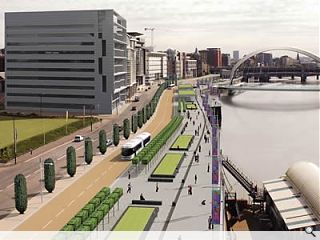 Willie O'Rourke, chair of Glasgow Clyde Regeneration Ltd, has stated that "personal assurances" have been given by Scotland's First Minister that required financial support will be forthcoming for Glasgow's vaunted Fastlink project.
The scheme will see a dedicated bus route introduced along the Clyde in time for the Commonwealth Games in 2014 to ferry spectators between riverfront venues.
Costed at £40m it will run from Dalmarnock to the SECC with possibility of future expansion to the Southern General Hospital and follows cancellation of the Glasgow Airport Rail Link.
Ministers are awaiting submission of a detailed business case from Strathclyde Passenger Transport and Glasgow City Council before addressing detailed funding issues.
Back to March 2010