Students pep up City Square consultation with provocative 'what if's'?
March 1 2010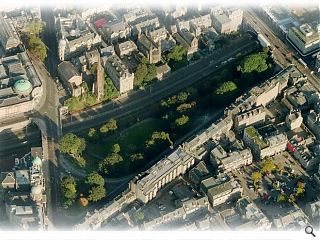 Robert Gordon University graduates have added their own contributions to Aberdeen's Union Terrace Gardens imbroglio with plans to outdo Wood in the city's City Square project.
Spurred on by official conceptual illustrations that did little to sell the scheme three Master of Architecture aficionados, led by Graham Edgar, devised some proposals of their own.
A range of aerial montages were produced to illustrate how the scheme could evolve from the current "flat concrete square" into a final design based on ACSEF's criteria.
In total eight designs were produced to engage public opinion on what the civic space should be, its proportion of green space and what should be in it.
The putative pics will serve to inform an ongoing public consultation exercise into the scheme, with endorsement forthcoming a full design brief would be compiled and the project would go to an international design competition.
The student trio are enthusiastically endorsing a yes vote in the campaign.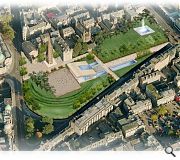 A more conventional square will also be aired at ACSEF's consultation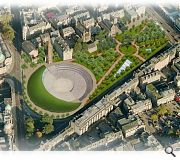 Amongst the radical plans showcased is a dramatic recessed auditorium
Back to March 2010