Farmer facing castle hassles as illegal home condemned
February 3 2010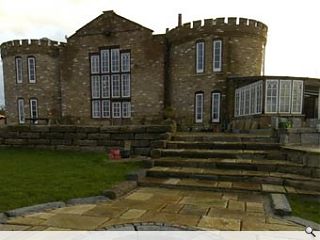 A farmer who built an illegal castle inside a stack of straw bales has lost a bid to save it from demolition.
Robert Fidler built the two storey home with stone, turrets and even mock ramparts but did so without obtaining planning permission.
The ruse was intended to exploit a loophole in planning law which allows illegal structures to remain if no-one complained within four years of their construction.
Fidlers fiddle came unstuck however when Reigate and Banstead Borough Council inspectors ruled that removal of the straw bales constituted part of the building operation.
Fidler is expected to appeal against the decision his lawyer stating that: "The judge appears to have left open the big question - when is a building substantially complete?
"It is necessary for the courts to draw the line as to what constitutes a completed development."
The
Rubble Club
will be mounting a campaig to save the structure.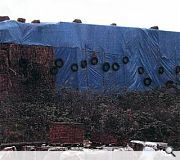 Now you see it, now you don't. Fidler went to extraordinary lengths in his campaign of deception
Back to February 2010