Worlds weirdest architecture revealed
|
Send to friend
October 16 2009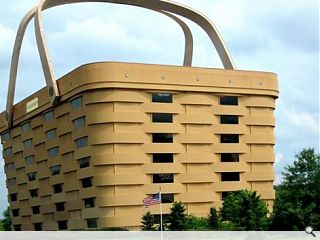 A list of 42 examples of the worlds "weirdest" architecture has been compiled by Graphic Mania.
The site seeks to illustrate an eclectic mix of far fetched visions and head turners that arise when: "The creative monster inside architecture designers does not stay cool and calm".
Amongst the unusual accommodation showcased is the Longaberger building in Newark, headquarters of, yes, a wicker basket sales company. The Mimetic architecture was borne out of founder Dave Logaberger's decree: "If they can put a man on the moon, they can certainly build a building that's shaped like a basket."
Or hear the tale of Jim Bishop who has been building his dream home since 1969… and still isn't finished. The stone and iron fortress will one day play host to a moat and roller coaster around the outer wall.
To see these and more visit:
http://www.graphicmania.net/42-most-weird-buildings-architecture/
Back to October 2009