Devereux approach education in the round
|
Send to friend
October 13 2009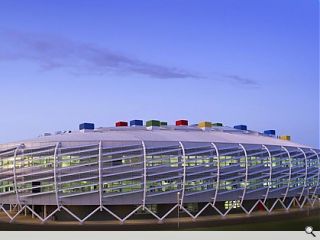 Devereux Architects have come full circlefor their latest project, Monkseaton High School a 360 degree teaching environment that the designers believe will serve to improve performance levels in the classroom.
The ellipse shaped school looks like it's just landed from another planet but does in fact contain state of the art facilities alongside a raft of eco friendly features such as natural ventilation and solar panels.
Moving away from the serried rows of desks and traditional "chalk and talk" teaching Devereux have introduced flexible multi use spaces full of technology by inserting triangular classrooms within the building envelope. This is intended to ensure that irrespective of a teachers position within the room they are always the focus for students, who each have access to a computer terminal within randomised desk placement.
In addition a number of "informal" learning areas are provided for students to study independently of authority around a central open interior to allow passive surveillance of corridors.
North Tyneside Council commissioned the £22m school which has taken 10 years to design and build.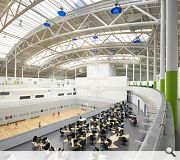 Back to October 2009