Hamster cage photography scoops architecture prize
|
Send to friend
October 8 2009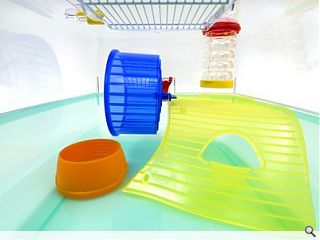 Ever felt like a hamster stuck in a cage, pounding the treadmill of life?
Photographer Stephan Sahm has and he's published the pictures to prove it, capturing the garish plastic prisons of the furry rodents from a hamster perspective.
Showing what life is like on the inside, the snaps present a disorientating insight into a self contained world of bold primary design and four legged play pens.
Sahm submitted the work for the biennale European Architectural Photography Prize, securing first place with the series of colourful cage views, they will now be put on display at the Architektur Galerie, Berlin.
Back to October 2009