Fresh Egyptian Halls images published
|
Send to friend
October 7 2009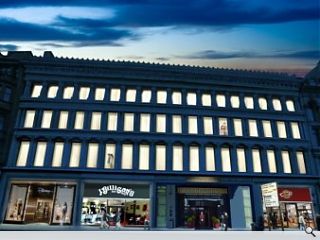 Union Street Properties have produced indicative visuals showing the landmark Egyptian Halls without any visible alterations after confusion arose as to the prominence of a three level rooftop extension to the Egyptian Halls by the Morrison Partnership, who were insistent that the new build extension would not be visible from the street, by locating the addition to the rear behind a rooftop terrace area.
Some commentators had opined that a glazed box extension did not illustrate cognisance of the classical traditions of Thomson which were designed to be read obliquely from the street as architect Noah Murney decried: "The only purpose served by the night time view is to highlight that the windows on the proposed new upper storeys don't align with the main elevation, astonishing."
Derek Souter agues however that obsession over the elevations detracts from the real issue of saving the building: "As a director of the company that could save this building there's a darn sight more than just the "elevations" i.e. the unique cast iron frame. If we'd been allowed to proceed with our previous scheme in 2000 we'd not have needed the extra floors as we do now, due to massive cost increases. Then again this is a real project, which needs a sustainable, deliverable commercial future. No Lighthouse here I'm afraid to say!"
Keen to see the Halls returned to commercial vigour a raft of publicity garnering ideas were postulated as a means of breaking an interminable 18 year delay by tapping into the body of goodwill that surrounds Thomson's work. See
original article
.
To this end an organised tour of the building is to be arranged by architect and developer within the next fortnight, details of which will be published soon.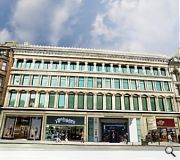 Back to October 2009