BDPs Tanfield opened by John Swinney
September 24 2009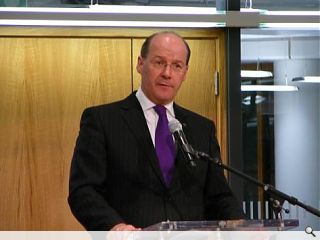 Tanfield, a £20m refurbishment of the former Standard Life building, has been officially unveiled by city leaders and politicians in Edinburgh.
Some 192k sq/ft of open plan floor space is provided by the premises which benefit from large naturally lit atria after the roof was taken down and replaced by architects BDP.
Extensive roof top gardens have already proved crucial in persuading the first tenant to move in, a family of ducks taking advantage of this lofty greenery. More commercially orientated tenants are expected to be announced later this month.
Speaking at the launch a representative of Carlyle Real Estate - a subsidiary of the US private equity firm which co-financed Tanfield with Bellhouse Joseph, said: "Opinion polls show the least popular classes of people are developers, bankers and politicians, a good proportion of which are represented here. I'd like to say to the lawyers though, stop smiling, you don't come out of this very well either!"
"We have a cracking building here offering a city centre location at out of town rents, over 300 parking spaces and open plan floorplates. In a difficult economic environment these will put us in a strong position."
John Swinney MSP subsequently took to the floor saying: "I heard you talk about opinion polls, one of the remarkable things about government and opposition is in opposition you can't wait for the next opinion poll to see how you're doing, in government you can't stand the sight of them!"
"I used to work for Scottish Amicable so the idea of crossing the door of Standard Life was preposterous." Swinney was further impressed by the "full scale rehabilitation of the building from its previous guise as a Daily Mail HQ.
Dave Anderson, Edinburgh's Director of City Development concluded: "Already we've had more committed investment in Edinburgh in the first half of 2009 than in the whole of 2008". Delving into the history of the area Anderson quipped: "The first assembly of the Free Kirk was held here in 1843, so for those of you torn between alcoholic or non-alcoholic drinks the ghosts are looking down on you now"!
Back to September 2009