Urban Realm seeks Twitter big hitters
September 14 2009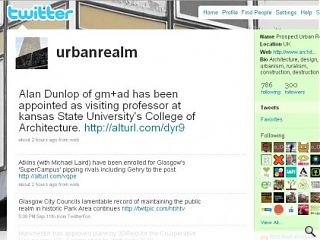 Urban Realm is launching the Twitter directory, a compendium of the networking sites hottest businesses in our bumper inaugural issue which deadlines on 9th November.
One page of the magazine will be given over to the display of 19 companies, including Urban Realm, with each entry given their own logo, Twitter account name and 140 characters to describe your business. Contact details including your web address and company name will be printed to allow clients to get in touch and multiply those all important followers.
Your Twitter account will also be published on the Urban Realm website with your logo and text linking to your Twitter page for six months, all for the princely sum of £125 plus VAT.
To book your slot or to find out more please contact Rachel Giddins at
Rachel@carnyx.com
or 0141 559 6073. You can follow Urban realm on Twitter by logging on to
http://twitter.com/urbanrealm
.
Back to September 2009