Café Gandolfi pops into Hutchesons Hall
September 14 2009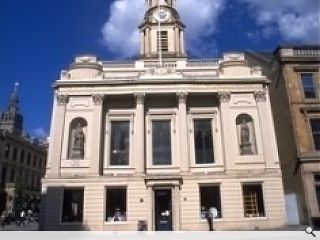 One of Glasgow's most historic buildings, Hutcheson's Hall on Ingram Street, is set to open its doors to the public for the first time in two years.
The National Trust for Scotland (NTS) had been forced to close the venue to the public after the cash strapped heritage body ran out of money to keep the doors open, now however Seumas MacInnes of Café Gandolfi has stepped in to transform the shuttered premises into the city's first "pop up" champagne bar.
"Pop up" premises are bursting into view across the country with a proliferation of vacant premises tying in with the current consumers desire for transient stores and haunts as an antidote to omnipresent chains.
Perrier Jouet have been enlisted to design the bar for the event which is intended to celebrate the 30th anniversary of Café Gandolfi and will feature burlesque dancers, singers, a pianist and a harpist.
Fifty percent of all profits from the event will go to the NTS with hopes that the model can be used to stimulate other guerilla style events in disused haunts across the country.
Back to September 2009