Trongate 103 press preview
September 10 2009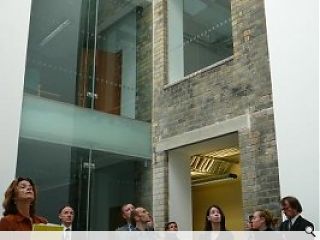 Urban Realm has been granted a sneak peek of Trongate 103, a five years in gestation creative arts hub that aims to promote cross fertilisation of ideas between the eight visual, tactile and performance artists who now call the centre home.
Collaboration on this scale is thought to be unique within Britain and will provide a one stop shop for education, display and sale of work created within.
Designed by architects Elder & Cannon the space is intended as a "functional backdrop" for people to use and adopts numerous clever touches such as high level windows to maximise hanging space whilst still permitting natural light.
Key to the practices approach was the creation of a "social" building as architect Tom Connolly states: "We wanted noise to be heard, this is not a museum but a working centre. As soon as you step out that lift you know you're in a place of activity. You're never stepping on egg shells."
This approach manifested itself in the form of a voluminous first floor "break out space" which skilfully merges circulation routes into a single shaft of light that can also double as an additional display area.
The Centre complements ongoing work at the adjacent Britannia Panopticon theatre which has recently had its façade restored, however no overt attempt has been made to integrate the two properties.
Now is perhaps an inauspicious time for a launch with the Lighthouse's much publicised collapse into administration but scheme backers point out that the two venues remits are entirely distinct and that tenants here are going concerns, each having operated a successful business plan for years.
Highlight of the tour was 'Sharmanka' an animated spectacle of movement and light, a stark contrast to the plain studios elsewhere. Here Tatyana Jakovskaya talks us through her "kinetic theatre" of mad imaginings dancing to music and light.
Trongate 103 opens its doors to the public this Saturday.
Back to September 2009