Floods drown Aberdeen
September 4 2009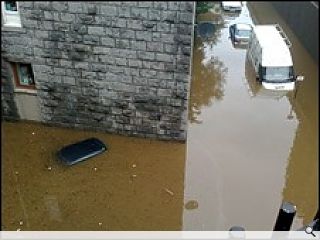 A dismal conclusion to the summer, which has brought weeks of solid rain to parts of the country, has brought heavy flooding and disruption to the north east of the country.
Aberdeen in particular endured its wettest September day since records began in 1943 with some city centre cars left submerged and effecting neighbouring regions of Tayside, Fife, Perth and Kinross.
Many affected properties have been flooded previously, raising questions as to the adequacy of flood prevention measures in the region.
Britain's climate is expected to become increasingly sodden as the climate warms and sea levels rise, sparking increased frequency of storms and floods.
Picture by Mark McHardy.
Back to September 2009