Archial's Scottish Borders Campus officially opened
September 7 2009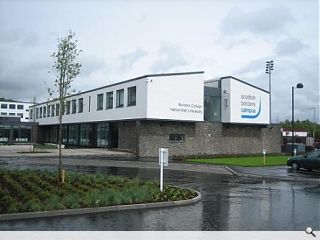 Scottish Borders Campus, a co-location project between Borders College and Herriot Watt University has been officially opened by HRH The Princess Royal.
Designed by Archial Architects the £20m development involved complete refurbishment of an existing 1960's building and construction of twin entrance pavilions accommodating around 1,500 students.
Charles McQuilkin of Archial Architects said, "The overall estates strategy for Scottish Borders Campus is based on a hub and spoke model with the main centre being located in Galashiels through a co-location agreement between Borders College and Heriot-Watt University.
"The building sits right down in the valley next to the River Gala, alongside Gala Rugby Football Club, and is the most visible location within the town. This project has now served as a catalyst for upgrading the surrounding environment to enhance the overall attractiveness of Galashiels.
"Delivered in a series of phased completion over a 15 month period, the first activity was to consolidate and condense Heriot-Watt's activities into parts of the building, which allowed us to address the rest of the building and undertake the major works required to facilitate the relocation."
Back to September 2009