Common of Houses win for Collective
August 26 2009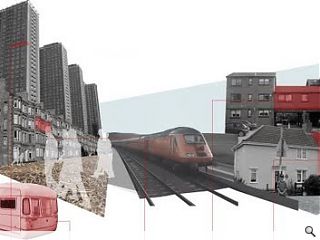 Collective Architecture have won Common of Houses, a competition to design: "state owned, temptation free" housing for MPs with a left wing vision of a network of local assemblies served by renationalised railways and ferries to: "increase participation in democracy".
This caught the attention of former London mayor and competition judge Ken Livinstone, amidst the bevy of fanciful solutions. The radical politician has long harboured ambition to move parliament out of London stating: "The Foreign Office can go to Bradford and the MOD to Liverpool, spread the jobs around a bit."
Other contenders included a 'Ministers Mole Hole' giving MPs their very own bunker in which to hide from public scorn and a series of dynamic towers of stacked flats that rise and fall in proportion to votes cast.
Collective can now look forward to having their own fake expense form, submitted as part of the bid, honoured by the competition organisers.
Common of Houses was organised in response to public outrage at MP expense claims and invited architects to derail the second home gravy train. The winning scheme will go on display at an exhibition to be held in the Lighthouse this September (assuming said venue remains open).
Back to August 2009