Archial detail their Grange Academy ethos
August 26 2009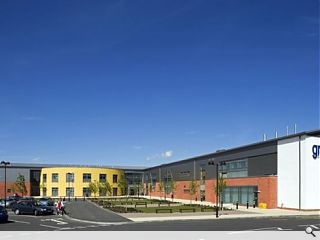 Archial Architects are proud of the inclusive nature of their newest school, the £70m Grange Academy in Kilmarnock. This combined campus of over 1,800 pupils brings together the Grange Academy and Annanhill Primary together with special needs pupils from Park School for a unique mix of pupils in Scottish school design and one that helps to ease the transition of children from Primary to Secondary education.
Part of East Ayrshire Schools PPP the decision was made early on to bring on board the three existing headteachers to contribute to the design process and develop a shared vision.
Kevin Cooper, a director at Archial architects, describes the campus layout: "The design of The Grange Campus comprises an E-shaped block, which houses the teaching element of the secondary school, and a 'Roman Circus' element which houses the primary school, with a drum to the front of the building, where the various school administration functions are based. The special needs primary school, meanwhile, is based within a semi-circular building while the secondary school special needs pupils are located within the curving ends of the secondary school facility.
"Between the primary school special needs part of the building and the secondary school teaching block are located the shared games hall, assembly hall and dining hall. The social space of the building, meanwhile, is sculptural, bright and airy – exactly what a genuinely civic space should be."
Back to August 2009