Trongate 103 opens its doors
August 25 2009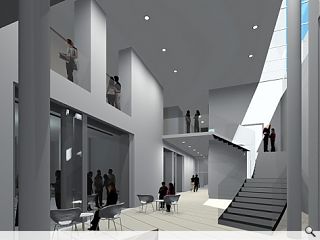 An opening date of September 12 has been set for Trongate 103, the fledgling creative arts hub in Glasgow's Merchant City.
The soon to be home of Glasgow Print Studio, Street Level Photoworks, Transmission, Glasgow Centre for Media Access (GMAC), the Russian Cultural Centre, Glasgow Independent Studio and Project Room, Sharmanka Kinetic Theatre and Project Ability will be running a host of events to capture the public imagination.
Doors open Day will afford intrigued punters opportunity to peruse the venue and partake of a spot of tea and pancakes with musical accompaniment at Café Cossachok.
A more hands on approach meanwhile will be adopted at the Merchant City festival where idle hands will be put to use in a collage workshop with insights provided into the fields of theatre and photography.
Something for everyone then and sure to go down a treat when the Centre finally gets into full flow, for more details please visit
www.trongate103.com
.
Back to August 2009