Lighthouse enters administration
August 25 2009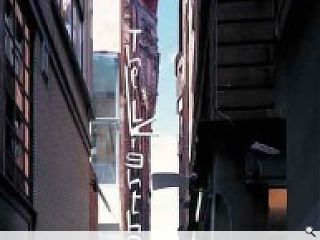 Nails were bitten a few centimetres shorter this morning as Lighthouse staff, journo's and creative types waited on tenterhooks for the deliberations of the Lighthouse board convened in dramatic circumstance to see what can be salvaged from the decade long endeavour to promote architecture and design by the Lighthouse.
When it came however the news was no less shocking as Eleanor McAllister, Chair of the Board of the Lighthouse Trust announced that administrators were to be brought in: "It has been a heartbreaking decision for me and the Board to bring in Administrators to the Lighthouse Trust. We know the devastating effect this will have on our staff and on the partners working with us on our projects. We have done everything possible to avoid this, but the options before us were very limited in the current economic downturn.
"...The Lighthouse business model has always required commercial income to subsidise its extensive programme. No other gallery in Scotland has to generate such a high percentage of its income from commercial sources and the Lighthouse has been very successful at that in the past. However, the extra income we needed from rents, grants and conference and events just did not materialise as businesses, organisations and charitable trusts cut back on their activities when the credit crunch hit and the recession deepened. The Lighthouse, already in a vulnerable position and with no reserves to call on, has not been able to rally."
The writing had been on the wall of the Centre for a long time with losses stacking up and criticism that the Mitchell lane premises were not fit for purpose, in striking contrast to the heady optimism of Glasgow's tenure as 'UK City of Architecture and Design 1999'. Some had argued that with banks receiving billions in aid that The Lighthouse's financial difficulties, requiring a £250k loan last year and a further £220k debt liability now were small beer and that the public purse should cough up.
However loss of confidence in the board by the Lighthouse's political masters to provide a realistic business model pointed to little real prospect of a rapid change in fortunes and with the Centre construed as no longer representing value for money its demise was inevitable.
The task now is to work with the administrator to investigate all options for a sustainable economic structure that will allow the Lighthouse Trust to continue its core functions and fulfil its immediate commitments. Contrary to weekend reports however the Lighthouse will remain open for business until this position is assessed.
Back to August 2009