Hot app shines light on the Sun
August 10 2009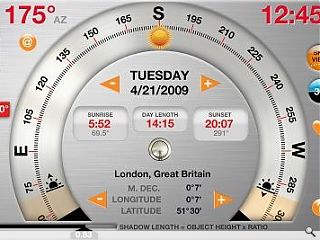 Those desperately in search of the sun this summer won't have to head to the Med thanks to a handy gizmo from Chemical Wedding (CW) – an iphone software developer – who have announced the release of Helios, a sun position calendar aimed at architects and urban planners wedded to their phones.
The clever app allows iphone users to pinpoint exactly where the sun will be at any particular time or location, accurate to a fraction of a degree thanks to an internal compass, allowing construction professionals to guage shade issues more accurately and maximise solar panel exposure to light.
Previously carried out on expensive software or cumbersome paper based charts this has proved to be a tricky affair, something CW hope to consign to history.
Toby Evetts, director at CW said: "The elegance and simplicity of the iPhone's UI means we can put sophisticated applications in the hands of professionals in a way that has not been possible before."
Based in the US but founded and run by Brits, CW aim to fill a gap in the market for professional iphone apps.
Back to August 2009