M74 motors along
August 11 2009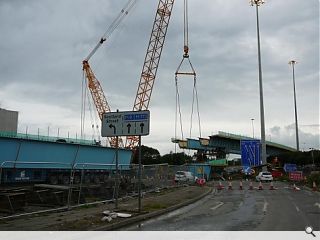 Glasgow bound motorists will have found the ongoing M74 engineering works difficult to miss with the largest mobile crane in Europe continuing to winch sections of blue steel into position above the Kingston bridge access ramps.
Road closures and diversions have marked the first tentative spurs of roadway which will soon snake some five miles from Tradeston to Rutherglen, a river of traffic south of the Clyde to cater for the cities current transport priorities.
Work on the £445m scheme is scheduled to complete by 2011.
Back to August 2009