Wholly Vinoly
August 10 2009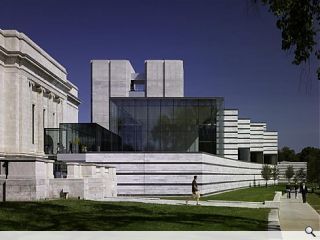 Cleveland Museum of Art, Ohio, is recipient of a new east wing courtesy of Rafael Vinoly Architects creating new space for the presentation and conservation of its collection of 19th and 20th century European art and photography.
The first of three planned wings it unites the historic Beaux-Arts museum with a later Marcel Breuer addition with double height galleries and entrance lobby.
Designed in 1916 by local architects Hubbell & Benes, a grand Greek revival pavilion sits as focal point of a formal landscape designed by the Olmsted brothers, a formality obscured by subsequent additions.
Vinoly has resolved these confusing spaces by conceiving a continuous ring of expansion around this historic "jewel", clearing some later additions to create a central meeting place topped by a gently curving canopy of glass and steel.
The full project is due to complete in 2012.
Back to August 2009