Store wars
August 6 2009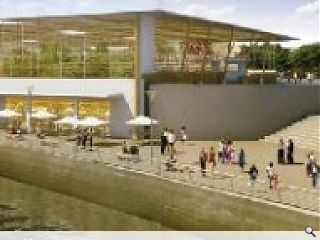 Revised plans for a controversial Tesco store are being proferred to the community of Partick after the retail behemoth was outfoxed by Glasgow Harbour, with plans for a rival store, who sneakily purchased vital access land.
This act of corporate sabotage has forced Tesco and architect Ian Burke Associates back to the drawing board with a smaller store totalling 60,000sq/ft and removal of all housing components in a third iteration of the long running saga.
The result is an "eco store" which aims to tempt environmentally aware custom with natural daylight, a combined heat and power plant, vents on the roof to draw in cool air, wood cladding and rainwater harvesting for a somewhat more uplifting experience than the traditional supermarket shed.
In addition to retail a public walkway will be constructed along the banks of the Kelvin, including a landscaped public space and cafeteria, providing opportunity to connect with the under construction Transport Museum – subject to land ownership issues being resolved and a commitment from Glasgow City Council.
Encompassing a former spur line which SPT sanctioned removing, a former ticket office was demolished amidst some protest as buildings subject to a live planning application cannot be listed. Tesco had offered to dismantle and reinstall this building within the Transport Museum but the Museum advised that the structure was not worth the effort.
A two day exhibition of the proposals, which are subject to change, takes place at Partick Library today and tomorrow. A three month consultation will follow with a planning application potentially being made from mid October.
Back to August 2009